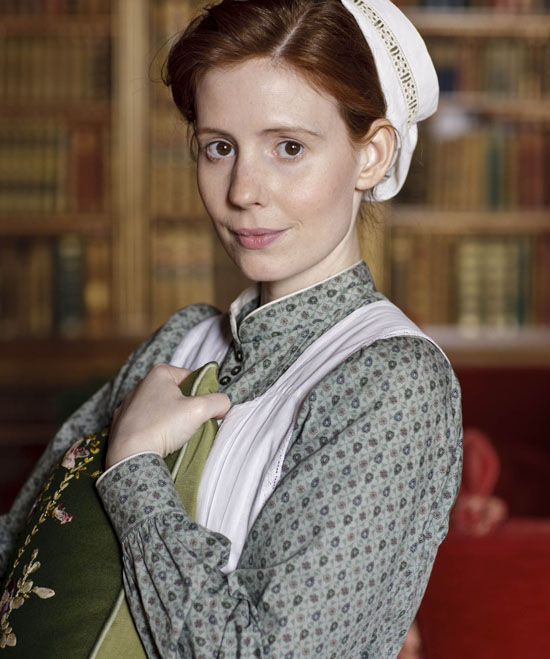 Hello everybody! As a welcoming present (thank you muchly for clicking my way) here is a preview shot from the second series of UTV's mega-hit Downton Abbey. I thought t'was appropriate to start with Downton as the period drama resurgence and period drama enthusiasts have much to thank it for, I reckon. Not since Colin Firth's wet britches in 1995 has a TV period drama had such a high profile. Will Downton's runaway success lead to many more similar commissionings? Here's hoping!There are a few bits and bobs on the way which I shall discuss here soon.
In the meantime, the above shot shows Emmerdale alumnus and West End regular Amy Nuttall as new housemaid Ethel. I take it that she's there to fill the gaping, ginger-maid hole left by Rose Leslie's Gwen who was due to leave at the end of the first series to begin life as a secretary, despite many being of the opinion that she was getting above herself. Another new character being introduced in series two is Bates's wayward, silver-stealing first wife Vera. No doubt that will put the cat among the pigeons between himself and Anna. Vera, described by Bates's mother as "a nasty piece of work" but then you know what mothers-in-law can be like, will be played by Ireland's own Maria Doyle Kennedy.
Further news is that the second series will begin two years after Hugh Bonneville's life-changing announcement at the end of series one. 1916 and Downton Abbey is being used as a convalescent home for wounded soldiers. No doubt that one of the Crawley sisters will catch the eye of the injured and lame. Let's hope it's poor old Edith! Mary has her on-off with her cousin Matthew and Sybil has her on-off with her chaffeur Branson. Edith, whose middle-child syndrome was getting rather chronic when last we saw her, deserves her time in the sun, I reckon. This year there will be eight episodes and a Christmas special. Are people excited for its return? Can September not come soon enough? Please leave a comment and let me know..............