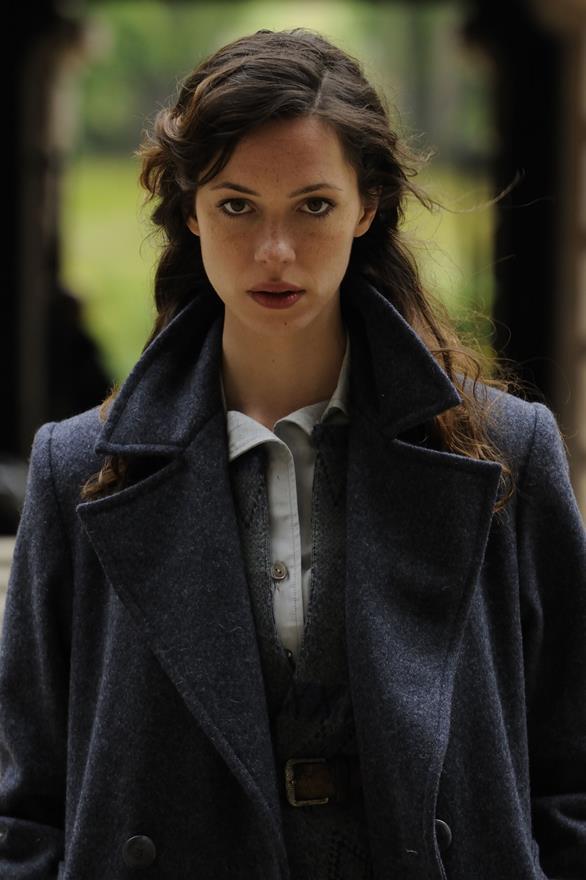 The rarest of rare things is to come our way in the coming months with the release of BBC Films' highly-anticipated feature The Awakening. It is a period film that has been written directly for the screen. Not only that but it is also a supernatural tale of things that tend to go bump in the night. This debut feature film from writer/director Nick Murphy is set in England in 1921 where the widespread devastation of World War 1 has led many bereaved souls to seek solace in spiritualism.
Rising star Rebecca Hall (pictured above in a scene from the film) takes centre stage as Florence Cathcart, a young woman who, herself haunted by the untimely death of her fiance, has dedicated her life to debunking supernatural claims and exposing the truth behind so-called ghostly sightings. She is steadfast in her conviction that the dead are incapable of contacting the living until she is called to investigate mysterious happenings at an elite boys' school. Her methodical and rational approach crumbles in the face of a chilling specteral encounter.
Extra layers of creepiness can always be relied upon when children are added into the mix. This sounds like much more than a cynical rehash of The Turn of the Screw, however. The post-war setting should add emotional depth and poignancy and the sister-doing-it-for-herself protagonist sounds much more promising than the screaming, hysterical women seen all too often in this sort of fare. Joining Hall for a healthy dose of the heebie jeebies are Dominic West, Imelda Staunton, Lucy Cohu, John Shrapnel and Shaun Dooley.
Dooley, seen earlier this year as Mr Holly in the BBC's South Riding, will soon be seen in another period ghost tale, The Woman in Black. Adapted from Susan Hill's novel by Jane Goldman, the film will star Daniel Radcliffe as Arthur Kipps, a young, widowed solicitor who travels to a remote village to settle a deceased client's affairs only to be greeted by the ghost of a scorned young woman bent on revenge. That's all you need when away from home! Directed by James Watkins and featuring Janet McTeer, Ciaran Hinds and Liz White in the title role, The Woman in Black will hopefully curdle the blood and not prove a damp squib.