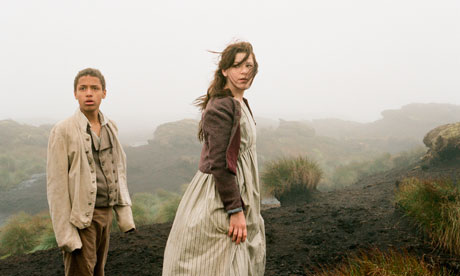 Much has been made in the media of arthouse aficionado Andrea Arnold's decision to depict Heathcliff as a black man in her intensely original adaptation of Emily Bronte's durable classic Wuthering Heights. In truth, this latest version achieves levels of innovation that usually allude adaptations of such well-known novels, not through going back to black with "the dark-skinned gypsy in aspect" but through some other, less-publicised decisions made by Arnold and her co-screenwriter Olivia Hetreed. This film is as preoccupied with Heathcliff and his adoptive sister Cathy Earnshaw in their adolescence as in their adulthood and investigates with wit, insight and vital energy the formative period of their indestructible and ultimately destructive attachment to each other. As Cathy and Heathcliff wander about on the wild and windy Yorkshire moors, they seek solace in each other, they amuse each other, they excite each other, they delight each other and they awaken in each other feelings of sexual desire, beautifully captured in their youthful intensity.
Arnold employs any number of arthouse flourishes to tell this tale afresh and period drama enthusiasts may find much of 2011's Wuthering Heights objectionable. Bronte's eloquent characters speak little here and when they do, it is with a decidedly contemporary turn of phrase, more "Are you OK?" than "I am Heathcliff!" The film is also unrelenting bleak as it bamboozles the viewer with images of death, decay and destruction although Bronte's Yorkshire was hardly as singing, all dancing to be fair. The characterisation of the grown-up Heathcliff is radical, opting for a psychologically astute meditation on cruelty and personal responsibility. How else will a man, who was savagely branded on his back as a slave during childhood and mercilessly beaten for the colour of his skin, react when confronted with thwarted ambitions but savagely and mercilessly?
For all its merits, Wuthering Heights tries too much to feel contemporary and ultimately undermines certain key aspects of Cathy and Heathcliff's story as a result. Cathy's decision, for example, to abandon Heathcliff in favour of another man with better prospects is completely unbelievable in the context of this film and the entire second half featuring the grown-up lovers, who are no longer free-spirited and uninhibited but self-conscious and contained as they take tea in drawing-rooms, sits very uncomfortably with Arnold's hand-held, naturalistic style. The wildness of the first half is so wonderfully served by Shannon Beer and Solomon Glave's earthy performances as the young Cathy and Heathcliff that, despite their best efforts, Kaya Scodelario and James Howson struggle in the drab second half to escape the indelible impression made by their younger counterparts.
Andrea Arnold must be commended for crafting a beautiful film (kudos also to cinematographer Robbie Ryan) with some truly haunting moments (my favourite being a fireside rendition by Young Cathy of the tragic folk ballad of doomed love Barbara Allen eerily foreshadowing the heartbreak and loss to come) and for managing to defamiliarise a classic. However, this new Wuthering Heights is, even on its own terms, often unconvincing.